Casa Maya offers meals as a complementary service. Aida, our hostess, is trained as a hotel cook and conquers the hearts of our guests with her delicious meals.
Aida offers the following menu, but she is completely adjustable to the wishes of the guest, as long as she gives herself plenty of notice to buy provisions.
Meals – Breakfast:
Breakfast includes drinks. Drinks offered include coffee, coffee with milk, natural juice (pineapple, papaya).
Trio of Empanadas ($7):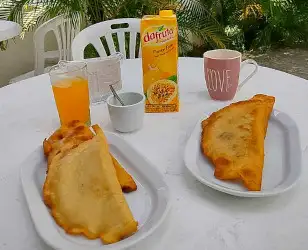 The client can choose between empanadas of:
Black Beans
Black beans with cheese
Cheese
Fish
Meatloaf
Ground meat
Plantain with cheese
Plantain
The empanadas are made with fresh ingredients and are accompanied by a homemade guasacaca sauce.
Pancake Trio ($7)
The trio of pancakes is accompanied by honey and grated cheese.
Eggs ($7)
The guest chooses between fried or scrambled eggs or omelet. Depending on the guest's preference, the eggs can come with cheese, vegetables and arepas.
Pabellón Margariteño ($9)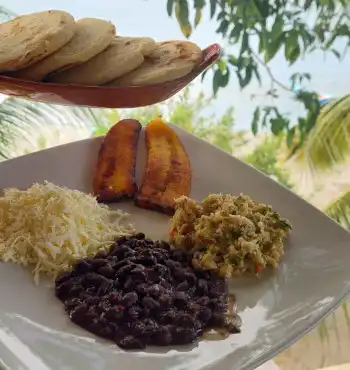 The Margariteño breakfast is a fish dish accompanied with beans, plantains, grated cheese and arepas.
Meals – Lunch and dinner:
Lunch and dinner cost around $12. The price varies greatly depending on the size and species of fish, or the cut of meat ($8-15) and from which animal. The guest can indicate its preferences to Aida in advance and agree on a budget so that Aida can buy the provisions. The price does not include drinks.
Chicken filet
Fish filet
Meat/steak
All dishes are accompanied by rice, black beans and salad or plantains (fried, baked or tostones/patacónes).