Margarita Island - Isla de Cubagua
Isla de Cubagua is a small island located in the state of Nueva Esparta, northeast of Venezuela.
The island is 9.2 by 3.2 km in size, elliptical in shape with the longest east-west axis. Its surface is 24 km². The highest elevation on the island reaches 32 meters.
History of Cubagua Island
It is a historic island, as it was one of the first places discovered by the Spanish in their exploration of South America.
Christopher Columbus found the island of Cubagua during his third voyage of discoveries. He sighted this island on August 14, 1498 and named it despite not landing on it. Shortly after its discovery, other European navigators confirmed the existence of rich pearl deposits in Cubagua, the exploitation of which gave rise to the first Spanish establishment in Venezuela.
Although the discovery of these deposits was great news, the colonization of said place was a problem for several years due to the lack of drinkable water. It was not until the year 1523 when the Cumaná fort was built, that large-scale exploitation of pearls and the colonization of the island started.
Little by little and due to the great exploitation that was given to the deposits, the pearls became scarce and overpopulation began to be a problem. Due to the lack of of food and water, in addition to native tribes constantly besieging the Spanish camps, many went to what is now Margarita Island.
It is not known exactly when pearls disappeared, but it is known that people progressively began to leave the island until there was supposedly no one left. Many years later, some of the locals from Margarita would go around the island with the aim of fishing and building small homes there to live.
Tourism in Cubagua Island
Some fans confess that the desert landscape of the Cubagua island makes it in a certain way a unique island, a desert landscapes are not at all common in the Caribbean. In addition to this, the legend that a submerged city exists or existed in its calm waters is a fantastic attraction that attracts many adventurers looking for said city.
Today, Isla de Cubagua is a popular spot for tourists looking for a quiet and relaxing getaway.
One of the main tourist activities on Isla Cubagua is exploring its virgin beaches. The island has several beautiful beaches, with crystal clear waters and white sand. One of the most popular beaches is Playa Charagato, where you can enjoy a wide variety of water sports such as snorkeling, diving and kayaking.
Another popular activity on Isla Cubagua is sport fishing. The island is known for its rich waters, filled with a variety of fish such as tuna, bream, grouper, and barracuda.
Tourists can hire a local guide to take them to the best fishing spots on the island.
On land, some of the most popular activities are mud therapy or mud baths, riding a sailing tricycle, beach biking or relaxing massages on the beach.
Another attraction are the ancient ruins of the city of Nueva Cádiz, the first city in Venezuela and Latin America and which was one of the main points of pearl exploitation, especially in South America.
In short, Isla Cubagua is a beautiful and peaceful place, perfect for those looking for an escape from urban life. With its pristine beaches, rich fishing waters, and rich history, it is an ideal location for a relaxing beach vacation.
How to get to Cubagua Island
1. By boat/peñera from Playa El Yaque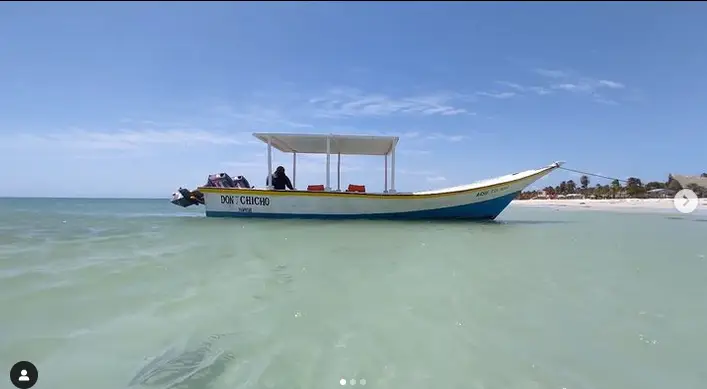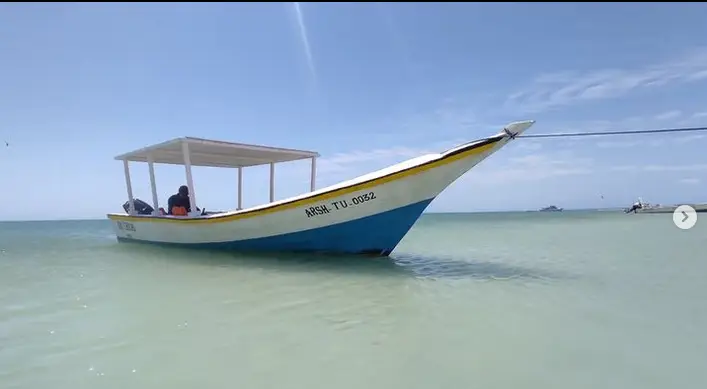 Casa Maya is strategically located just 50 meters from the dock where the boats depart.
Duration: 50 minutes. The departures are from 9 to 10 am regularly and the return is no later than 4:30 pm.
Price: $50 per person round trip (Minimum 5 persons per trip)
Our neighbor Don Chicho offers the best boats in Playa El Yaque. Don Chicho offers boat transportation services between El Yaque Beach and the Coche and Cubagua Islands. For more information visit @eldonchicho or by WhatsApp. The boats have new engines, security systems, and life jackets for their clients. They have a radio, first aid kit, navigation lights and the best attention to customers.