Margarita Island - Getting there
Entry and Visa requirements for Venezuela
All foreign passports must be valid for a minimum of ninety (90) from the moment of arrival in Venezuelan territory.
The maximum time of stay as a tourist in Venezuelan territory is ninety (90) days, tickets can only be sold until the established time.
The following nationalities need a visa to enter Venezuelan territory, said document must be valid at the time of entry: China, Dominican Republic, Syria, Lebanon, Nigeria, Panama, USA, Honduras, Haiti, Ukraine, El Salvador, Guatemala, Peru , and Middle Eastern countries, among others.
Before entering Venezuela, all people must present the RT-PCR test with a negative result, issued a maximum of 72 hours before arrival in the country, and after disembarking at the country's international terminals, a second swab test will be performed (mandatory).
Ages exempt from presenting the PCR test result are only infants less than one (01) year old.
Due to restrictions, there are very few airlines with direct flights to Caracas, Venezuela and there are even fewer direct international flights to Isla Margarita.
The most common and likely route is from your location to Panama, from Panama to Caracas and from Caracas onward to Isla Margarita.
The information below reflects a brief review of airlines we created to facilitate travel for tourists interested in coming to Isla Margarita. The information is not intended to be complete and accuracy may be affected by the COVID pandemic.
Please, visit the specific airline websites to check flight information.
1. International Flights to Caracas
Copa Airlines has by far the broadest network connecting cities all over the continent with their hub in Panama and from Panama to Caracas.
Wingo is a low cost airline that has numerous regional connections to Bogota and from Bogota to Caracas. However, flights have been temporarily suspended due to Covid.
Conviasa is the national Venezuelan airline and offers direct flights from numerous countries to Caracas and has connection to Isla Margarita.
Estelar is a private company that offers connections from Panama, Peru, Argentina and Chile to Caracas and has a connection to Isla Margarita.
Other airlines with flights from Panama to Caracas, Venezuela are:
2. Flights from Caracas to Margarita Island

Most passengers, either coming from abroad flying into Caracas or locals living in Caracas or other main cities, take flights to Isla Margarita with any of the local airlines:
Getting to Isla Margarita can be challenging and it is helpful to use the services of a local travel agent to assist you with buying plane tickets.

Casa Maya has formed an alliance with Robson Soares, an independent travel agent, who has helped many of our clients to obtain plane tickets.

Feel free to contact Robson on WhatsApp.
There are several shipping companies that offer ferry service to Margarita Island: La Nueva Conferry, Navibus, Gran Cacique and Naviera Paraguaná.
This video just published (October 2, 2021) by Vlogger Gabriel Herrera shows the trip with Naviera Paraguaná (Spanish only).
As you can see in the video, the purchase and boarding procedure is somewhat bureaucratic and which is why it is important that you arrive with enough time before the departure time.
Ferry Jet Marine  is a new company that started offering ferry services in 2022.
This high-speed ferry type vessel is exclusively for transporting passengers (not vehicles).
Ferry Jet Marine offers ferry services between Guanta (mainland) and Punta de Piedras (Margarita Island) and between Punta de Piedras and Isla de Coche.
The Ferry has a capacity for 220 passengers on the main deck and 40 passengers on the upper deck.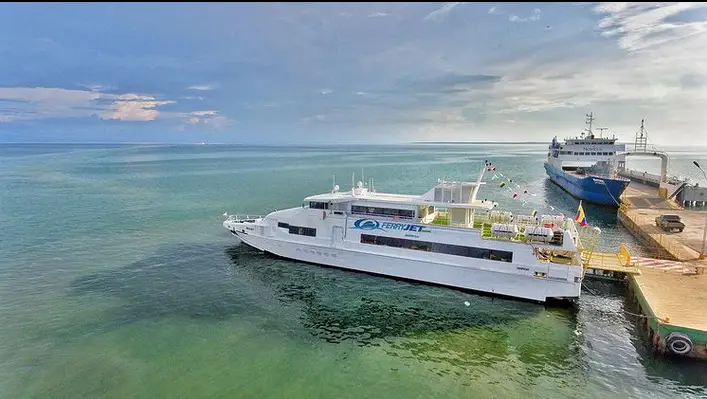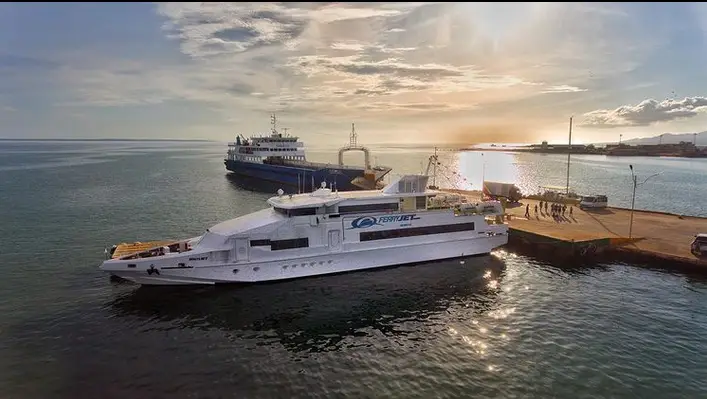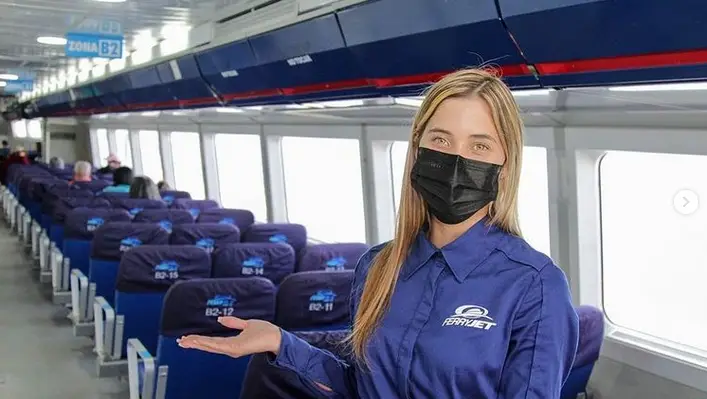 Naviera Paraguaná is a company with Venezuelan capital. It currently covers the route from Puerto de Guanta – Punta de Piedras (Margarita Island).
The Conferry departs from Guanta-Puerto La Cruz and arrives at the Punta de Piedras Ferry Terminal.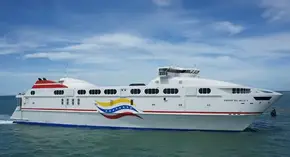 Gran Cacique is a company dedicated to the maritime transport of passengers, vehicles and parcels, which operates between the states of Sucre, Nueva Esparta and Anzoátegui.
Currently the company covers the routes:
Puerto la Cruz – Punta de Piedras (Isla Margarita)
Cúmana – Punta de Piedras (Isla Margarita)
The company has a fleet of five vessels:
P/B Don Nasib
P/B Gran Cacique III
B/P Guaqueri
B/P Caracas
B/P Palita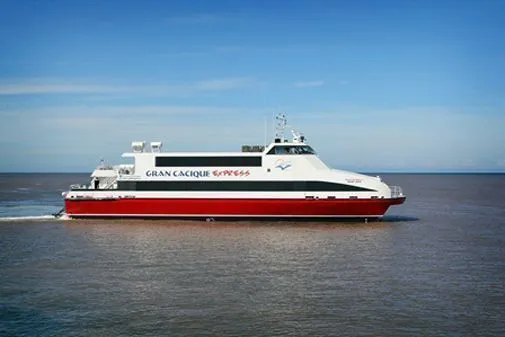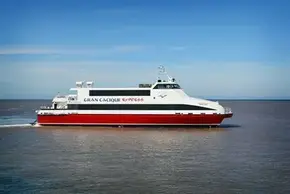 Inversiones Naviera del Caribe C.A. Navibus, is a Venezuelan company that started its operations as a result of the need to satisfy the growing demand for transportation to and from the island of Margarita.
Understanding this need, a group of Venezuelan shareholders from the Nueva Esparta state created Navibus, a line of ferries that cover the maritime routes from Puerto la Cruz to the island of Margarita.