Margarita Island - Getting around
Most tourists (and locals) will not have a car nor rent a car, so how would you get around to get to a beach, your hotel, airport, supermarket, etc.
Let's explore how you can get around Margarita Island.
Before getting excited about making trips, make sure you read everything about Money! Managing money in Venezuela can get complex and to make sure your trips and vacation go smoothly, it's important to know how to pay for goods and services without getting scammed.
Informal taxis aka 'Piratas'
Informal taxis are everywhere as there is much unemployment. There are no set prices and the final price will depend a lot on your ability to drive a bargain. Knowing Spanish or not will influence the price a lot.
Keep in mind that gas prices are subsidized and very cheap.
Most hotels, as do we, work with a limited number of drivers or 'recommended' taxis, that have proven to be reliable and honest that can cover most of your needs like shuttle service between lodging and airport or ferry.
Casa Maya also has a few guys that are reliable to arrange transport of guests to the airport.
The recommended taxis we work with charge $10 per trip. The cost of this service can be included with the reservation or you can pay the driver directly.
Renting a car with Driver
This is a specific service Casa Maya has created – we highly recommend it!
Basically, you hire a 'recommended' taxi, a driver that we work with for proven reliability for any needs you may have: 
Sight seeing trip – You provide us with an itinerary and we will get a quote.
Trip to town
Supermarket, shopping
What is the advantage?
First, the price is about the same as renting a car from an agency but…
You don't have to drive and focus on the road. Instead you can relax and enjoy the scenery.
You also have a personal guide that knows the island
It is safer
For more information, contact us.
Renting a car from Agencies
There are several agencies renting cars. Most are located around the airport. Car rental is not cheap (around $40-45 per day for a small sedan).
Uber, Didi and other platforms
Unfortunately, none of the well-known international apps are available in Venezuela. 🙁
However, there is a very successful local app, launched in 2021 and baptized the 'Venezuelan Uber', called Ridery.
The app offers services in Porlamar but general coverage on Margarita Island is still very limited.
Many residents depend on public transportation (red buses called 'Rojitas') to get around. This means long lines to get on a bus at the main bus terminals and almost every bus will be packed over capacity. 
The fees are dirt cheap and the buses are in poor condition and don't expect air conditioning. Especially during the rainy season, the experience is comparable to a Turkish steamhouse.
Flag the bus down if you are on the side of the road and want it to stop. Check the rate to your destination with the driver as you board the bus.
The average price is around $0.04.
In general, the demand for public transportation exceeds the capacity and so it is fair to say public transportation is in crisis. We do not recommend it!
Due to the collapse of the public transportation sector, private bus companies offer routes all over the Island.
Traveling in these are a luxury compared to public buses. 
They offer air conditioning and only allow the capacity of seats that are available, seats are usually comfortable and buses in good condition.
Prices are still cheap at around $0.2.
For those that are adventurous, like to mingle with locals, and are not pressed on time, this is certainly a recommendable option. 
Check with locals where you can take a bus to a certain destination.
Most official taxis are part of a legal cooperative or association. They can be distinguished as anywhere else in the world by coloring and signs indicating 'Taxi'.
Taxi hire is subject to prior negotiation with the driver. Taxis can often be chartered for a day if required. Most of the taxis have fixed rates and should be inexpensively priced.
It must be understood that only taxis with the official government issued yellow plates are licensed to operate as a taxi service.
Care and common sense should be used to ensure the taxi and driver are legitimate and licensed, especially late at night. 
Going to Coche or Cubagua Island
There are several ways to go to Isla Coche or Isla Cubagua:
1. By boat from Playa El Yaque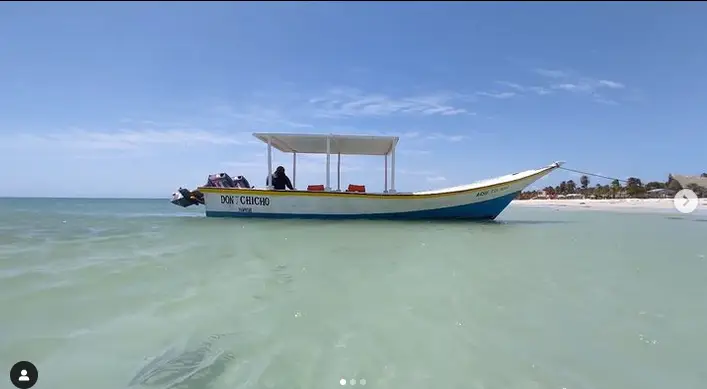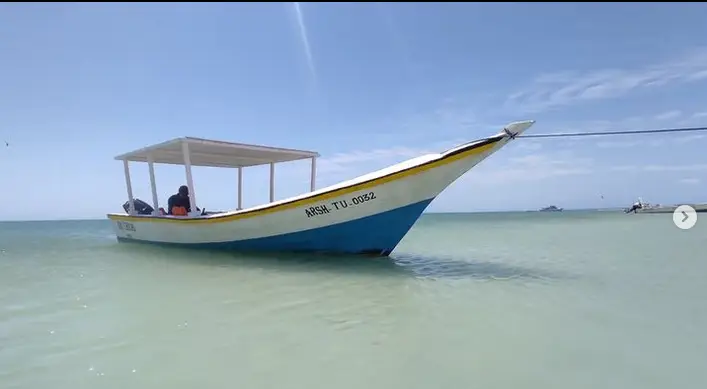 The easiest way to go is on a boat that leaves from Playa El Yaque, where a local will take you to the island and back and will connect you with vendors for food, land transportation, and lodging on the island.
Casa Maya is strategically located just 50 meters from the dock where the boats depart.
Duration: 20-25 minutes. The departures are from 9 to 10 am regularly and the return is no later than 4:30 pm.
Price: $25 per person round trip
Our neighbor Don Chicho offers the best boats in Playa El Yaque. Don Chicho offers boat transportation services between El Yaque Beach and the Coche and Cubagua Islands. For more information visit @eldonchicho or by WhatsApp. The boats have new engines, security systems, and life jackets for their clients. They have a radio, first aid kit, navigation lights and the best attention to customers.
2. Hire a Full Day excursion To Coche Island
Another very popular option to visit Isla Coche or Isla Cubagua is on a 'Full Day' excursion. A typical excursion begins with the transfer from your hotel to the dock at Playa El Yaque, where you can take a boat or catamaran. You will have the rest of the day to spend on your own or do guided activities.
The excursions include the transfer to Isla de Coche or Isla de Cubagua, a light breakfast, entertainment, music, buffet lunch and open bar (soft drinks, rum and beer), hammocks, umbrellas and transfer to the hotel on Isla de Margarita.
3. By ferry from Punta de Piedras
Ferry Jet Marine is a high-speed ferry type vessel exclusively for transporting passengers (not vehicles) for tourism purposes. The service between Punta de Piedras and Isla de Coche is only offered on Saturdays.
The Ferry has a capacity for 220 passengers on the main deck and 40 passengers on the upper deck.
Duration: 30 minutes
Price: $8 and up (one way).